Marseille soap 100g

The 100gr soap made with soap from Marseille
La Savonnerie Le Sérail has selected 50 different fragrances to offer a wide range to all its customers. These toilet soaps may or may not be colored, and some contain crushed elements such as the rose petal or lavender flower that exfoliate the skin using a soft scrub effect.

It should be noted that the majority of these toilet soaps are made from Marseilles soap shavings, to which the perfumes - mostly natural - and possibly dyes are added.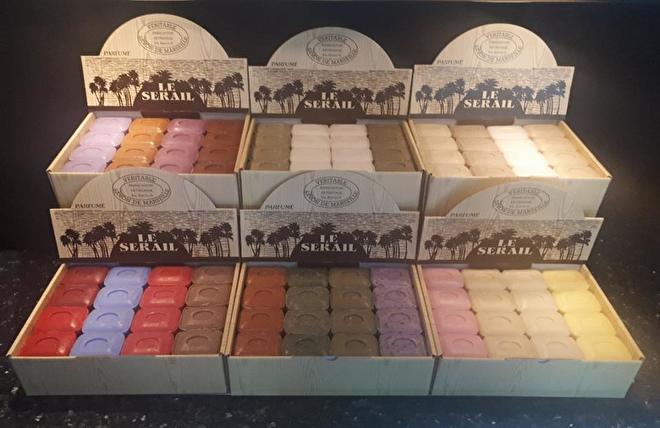 Fragrances available:

• Vegetable (white),
Lavender, Honey, Lime, Tiare-Monoi, Milk, Honeysuckle, Jasmine, Mimosa, Pink, Magnolia, Sweet Almond, Lemon Green, Anise, Grapefruit, Cotton Flower, Lily Of The Valley, Musk, Nature White, Bitter Almond.
• Olive (green)
Lavender, Verbena, Olive, Green Apple, Vanilla, Rosemary, Pine, Mint, Vetiver, Figs, Green Nature.
• With ingredients (exfoliants)
Green clay, lavender flour, wheat germ, ground orange cinnamon, apricot seeds, ground mint, ground verbena, rose petal, red wine, broken thyme, seaweed, ground lemon, green tea, propolis, donkey, argan, aloe vera, shea butter, Crushed orange, grapefruit.
• Colored toilet soap
Jasmine, Honey, Mimosa, Chocolate, Patchouli, Poppy, Orange, Flower Orange, Orange Blossom, Passion Fruit, Raspberry, Strawberry, Olive, Lime, Chestnut, Amber, Pineapple, Pear, Citronella, Bergamot, Peach, Grenadine, Navy, Cotton Candy, nobleman, ice.
Made with refined Marseille Soap, our scented toilet soaps are unique in their qualities and ingredients.
PACKAGING:
- Per 6 pieces of 100g
- Display box of 48 pieces with 1 or 4 different scents
We do not only sell soap bars. You can find the soap flakes here.
© N.A. ten Hoeve 12\02\2020