Buy now: Clothes for babies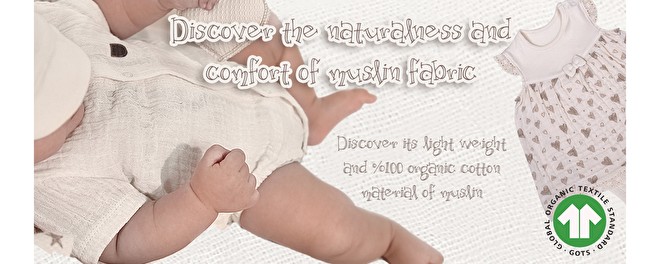 We present our latest baby collection: a range of clothes and accessories made for the small wardrobes.
From mini rompers and easy T-shirts made from pure organic cotton to everyday accessories and blankets made from extra soft cotton or bamboo. Designed with neutral soft solid colors as well as fun prints and bold colorways, these pieces are made for movement, play, and mini-adventures.
VitexNatura sells modern and organic baby clothing at low prices.
View our collection of super soft baby clothes made of organic cotton and bamboo.
The best baby clothing brand designed for your baby's wellbeing. Ethically produced fabrics. Our collection for babies is made with special attention to quality. Sustainably produced products.
Shop online today! Natural materials. Durable materials. Traceable materials. Made to last and, more important caring for children with allergies. The clothing is allergy-friendly for some of the peskiest allergens out there, because of the use of organic cotton and biologic paint and not using, animal dander, dyes, heavy metal paint and chemicals in treating the clothes.
Check out our favorite kid's clothes made from clean cotton for the smallest members of your family here.
Shopping cart
No items in shopping cart.