Recipe for dishwasher tablets
A recipe for homemade natural dishwasher detergent tablets.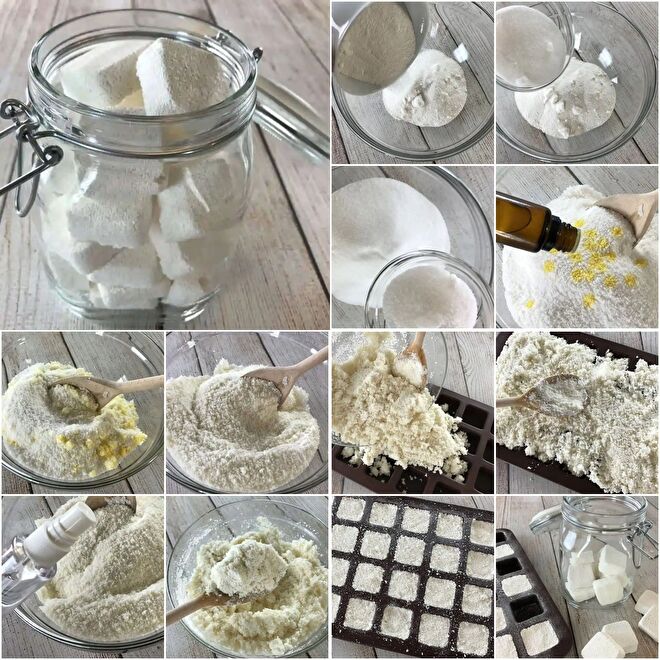 Why this homemade dishwasher detergent?
• All natural.
• Cuts through greasy and baked-on foods to clean dishes.
• Let my silverware shine and my glasses shine.
• No stains!
• Has the fresh, clear, refreshing scent of essential oils.
• Takes less than 5 minutes to make.
• Saves money over store-bought solutions.
What is used in homemade dishwasher detergent tablets?
Soda: This powerful cleaner raises the pH of the cleanse to break down food and grease, and softens the water to reduce stains, leaving your glasses and cutlery shiny and sparkling.
Salt – Hard water deposits can leave marks on your clean dishes; adding salt softens the water and reduces annoying spots.
Citric Acid - This versatile cleaner boosts the detergent to remove stuck-on foods, stops hard water deposits to keep them off your dishes, and aids in a smooth rinse at the end of the cycle.
Citrus Essential Oil - Thanks to the benefit of cutting through grease to get dishes clean, and leaving the clean dishwasher load smelling wonderful.
How do you make homemade natural dishwasher detergent tablets?
Step 1: Add 1 cup of super washing soda to a glass bowl.

Step 2: Add 1/4 cup of salt. Tip: No luxury, expensive salt is needed.

Step 3: Add 1/2 cup of citric acid powder.

Step 4: Add 40 drops of citrus essential oil, mix and use the back of a wooden spoon to remove any lumps. (use 40 drops of one oil flavor or use 40 drops total of any oil flavor combination) Citrus Essential Oil - Orange Essential Oil - Tangerine Essential Oil - Lemon Essential Oil - Grapefruit Essential Oil - Lime Essential Oil - Essential Oil oil of bergamot.

Step 5: Squirt 2-3 tablespoons of water into the mixture, stirring as you add the water. Tip: Do not add the water too quickly, otherwise the soda and citric acid will fizz and react too strongly. The slower the better.

Step 6: Once the mixture has the consistency of slightly damp sand, stop adding water. The mixture should clump together when you squeeze it, but fall apart when you drop it in the bowl. If it's too wet, don't worry, you can add more washing powder and dry it out. If it's not wet enough, spritz it with a little more water.

Step 7: Spoon the mixture into a silicone mold. (See the one added in the picture.) It is the perfect size for both (1) the right amount of detergent and (2) fits perfectly in the detergent dispenser. Use the back of a wooden spoon and your fingers to press the mixture firmly into the silicone mold.

Step 8: Let Them Dry And Cure Overnight. When they are completely dry, remove them from the silicone mold and place them in an airtight container.
Keep the following in mind:
Dishwasher tablets made in large quantities may shatter because the liquid inside evaporates after a while. In such cases, you can continue to use the powdered tablets.

You can handle or increase or decrease the amounts of the ingredient material at the same time.

In addition, the Soda ingredient in the recipe also prevents blockages in the pipes of your dishwasher.

To enhance the effect of the natural dishwashing tablet you are making, consider adding apple cider vinegar to the rinse aid compartment of your machine for cleaner and brighter dishes.
Shopping cart
No items in shopping cart.